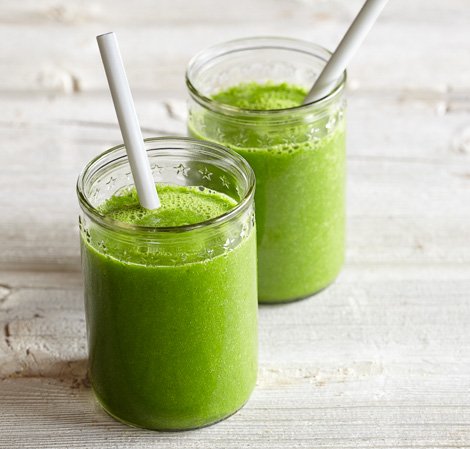 The Emerald Green - an anti-inflammatory post-workout smoothie
An anti-inflammatory post-workout smoothie
makes 28 ounces
3/4 cup unsweetened almond milk
4 cups loosely packed spinach
1 banana
1 tbsp almond butter
1 tsp ground cinnamon
1/2 tsp ground turmeric
1/4 tsp freshly ground black pepper
Blend all ingredients until smooth.
FUEL WITH @ANDREAMCDONALDNUTRITION
As a holistic nutritionist, spin instructor and endurance road cyclist, post-workout recovery is a central focus when I coach my clients on how to achieve their goals and feel their best — both on and off the bike.
Eating protein and carbohydrates (in a ratio of 3:1 carbs to protein) within a half-hour of your workout has big benefits. This ritual will speed up physical recovery, aid in tissue and muscle repair, and top up muscle glycogen stores (the athlete's fuel).
You will be ready for your next workout.
As we all know, excercise is a good thing, but a diet rich in antioxidants is critical. When our physical activity level rises, we use extra oxygen. This causes cellular oxidation and increases the potential for free radical damage, systemic inflammation and premature cellular degeneration. We can combat free radicals with fresh fruits, vegetables, and spices rich in antioxidant compounds.
Smoothie elixirs are one of the most efficient and convenient paths to incorporating post-workout recovery nourishment. Homemade smoothies made with simple, whole foods ingredients and common kitchen spices are liquid bliss for both the fitness newcomer and the elite athlete alike.
In the damp, West Coast winter months, smoothies can feel chilling when blended with frozen fruit or ice. The Emerald Green packs a warming punch of recovery nutrients: spinach (chlorophyl and iron); banana (potassium and magnesium); almond butter (protein and healthy monounsaturated fat); and unsweetened almond milk (calcium).
Cinnamon is a powerful antioxidant and aids in balancing blood sugar. Turmeric seems to be all the rage these days — for good reason. It contains bioactive compounds with powerful medicinal properties (the most potent being curcumin) which have huge anti-inflammatory effects, and it's a very strong antioxidant. Turmeric mixed with black pepper increases your body's ability to absorb and use this ancient medicinal spice to its full anti-inflammatory and antioxidant potential. The Emerald Green is gently sweet and deliciously silky, with a very mild hint of sassy spice. Enjoy!